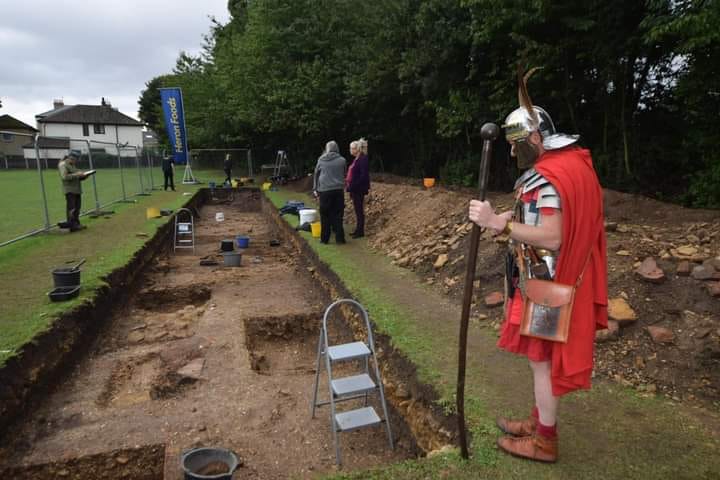 Photo from Petuaria ReVisited Facebook page
Although the Horncastle Group PLC is well known for constructing new buildings, we rarely play a part in uncovering ancient ones.
However, that's exactly what we had the opportunity to do by supporting the Petuaria ReVisited Dig in Brough earlier this year – a community project led by Martin Credland and the Elloughton cum Brough Playing Field Association.
The excavation, which took place on the Burrs playing field in the town, was carried out to locate the 'lost Roman theatre within the garrison of Petuaria'.
Petuaria is the Roman name for Brough and garrison it is thought to have been used as a naval base due to its strategic position on the banks of the Humber Estuary.
What a dig it turned out to be! A host of items were excavated including a Crambeck Ware bowl with hand-painted decoration, a Roman crossbow brooch, a Roman coin, a roof tile, a worked animal bone, and a counter or game piece.
Some of these items dated from around 375 – 400 AD, suggesting Petuaria was still flourishing around this time.
Previously, historians had thought it was in decline by the 2nd Century, but the findings of the dig cast doubt on this belief.
The dig was supervised by archaeologists from the University of Hull, led by Dr Peter Halkon, and supported by enthusiastic volunteers from Brough, Welton, and Elloughton.
Ian Hodges, Managing Director of the Horncastle Group PLC, said: "Brough's Roman history is fascinating, and it is fantastic to still be able to unearth evidence of it in and around the town today.
"The Petuaria ReVisited Dig was a huge success, uncovering evidence of an imposing building and courtyard, which appear to have official significance, as well as artefacts that cast a whole new light on how long the site was in use.
"We are delighted to have contributed funds to help sponsor the project and are excited to find out more about Brough's past as the research continues."
As well as the building and artefacts, eight kilos of oyster shells, whelks and snails were found, along with animal bones, giving an insight into the Roman diet.
Further excavation work is expected to take place next year. If you would like to know more about it, go to www.facebook.com/petuaria. To help the project, remember when you order through Amazon, do it via Amazon Smile and choose Elloughton Playing Field as your charity.